North Country
Homes Corporation
231-238-8121
7095 West M-68 Hwy
Indian River, MI 49749

Useful Links
---
---
---
---
---
---
---
---
---
---
---
---
Modular Home Manufacturers
---
---
---

Our homes are the highest quality

Our homes have all drywall finish, upgraded shingles and lots more. Compare us with others

Our homes are built to meet or exceed Michigan Residental Code (MRC) (or BOCA code) or BOCA

Our homes are delivered and set by experienced, certified crews

Our homes are backed by over 36 years of building experience

Our homes are guaranteed by the best warantees in the modular home industry.

Our family stands behind our homes 100%!
---
North Country Homes Corporation of Indian River, Michigan, delivers and sets new, high-quality Michigan Modular Homes (Michigan State Code) in Northern Michigan.
Serving Cheboygan, Emmet, Antrim, Mackinaw, Otsego, Presque Isle, Alpena, Charlevoix, Montmorency, Crawford, parts of Kalkaska, and Chippewa Counties.
Our Indian River sales office will be closed to foot traffic next week on Monday, Tuesday & Wednesday for office renovations. We will reopen the office to visitors on Thursday, February 9th at 9am.

We will be available via phone (231-238-8121) and email (cnola@northcountryhomescorp.com) while our office is closed to visitors. We can't wait to share the before & after photos of our front office and have you visit us this Spring to plan for building your new modular home!

Who are we?

North Country Homes Corporation is one of Michigan's largest and oldest Modular Home Builders. We special in custom designed MRC (Michigan Residential Code) modular homes, also referred to as BOCA modular homes.

"We specialize in taking you from design all the way through completion."
- Paul Fisher, President North Country Homes

We are a family-owned, 2nd generation business, located in Indian River, Michigan since 1975. The Fisher family's tradition of high-quality, energy-efficient modular homes is backed by outstanding service continuing with Paul & Tom Fisher Jr. We serve as your general contractor and handle every aspect of your construction project for you. Our homes are finished at a fraction of the cost of traditional stick building but rival the quality of a site built home.

North Country Homes was founded in 1975 by Tom Fisher Sr. & his wife Rosemary. Sons Tom Fisher Jr. and Paul Fisher continue the business today building high quality modular homes all over Northern Michigan. They specialize in custom-crafted homes. They continue to innovate, providing 3D architectural drawings for our customers using Chief Architect™, a professional software tool enabing us to draw your home, render drawings in 3D, visualize colors and materials inside & outside your home, even allowing for a virtual "walk through" before we ever break ground. We help you plan your entire building project including porches and a garage.

Still confused about the terms:
"Modular", "BOCA", "Manufactured",and "HUD"?
Click here to learn what they all mean.

Call for a free quote: 800-798-8121

North Country Homes offers design-built modular homes that are fully customizable. We know the ins and outs of building in northern Michigan. We know the people at the building departments. We know the sub-contractors in the area, which ones are easy to work with and the ones that aren't. You can trust us with your entire building project because of our experience and our satisfied customers. Click here to read customer testimonials.

We deliver our custom modular homes throughout Northern Michigan including all of the following counties: Cheboygan, Emmet, Antrim, Mackinaw, Otsego, Presque Isle, Alpena, Charlevoix,, Montmorency, Crawford, parts of Kalkaska, and Chippewa Counties.

We offer a large variety of Modular Home floorplans including Chalets, Cape Cods, Vacation-Style, Ranches, Cape Cottages, Two-Story, Colonials, Farmhouses, Narrow Lot Plans, Multi-Family homes, Universal Access (handicapped accessible) plans & more.
We firmly believe that our customers come first!
Our Design Built modular homes are built using advanced engineering & building systems which provide high quality, energy efficient, attractive homes at a price you can afford. Our homes are built FASTER and at a LOWER COST than traditional on-site construction.

---

We can help you find financing with the great lenders in Northern Michigan.

---


Ask about
Universal Access Plans
OFFICE HOURS

---
Monday - Friday
9am-5pm
Saturday
By Appointment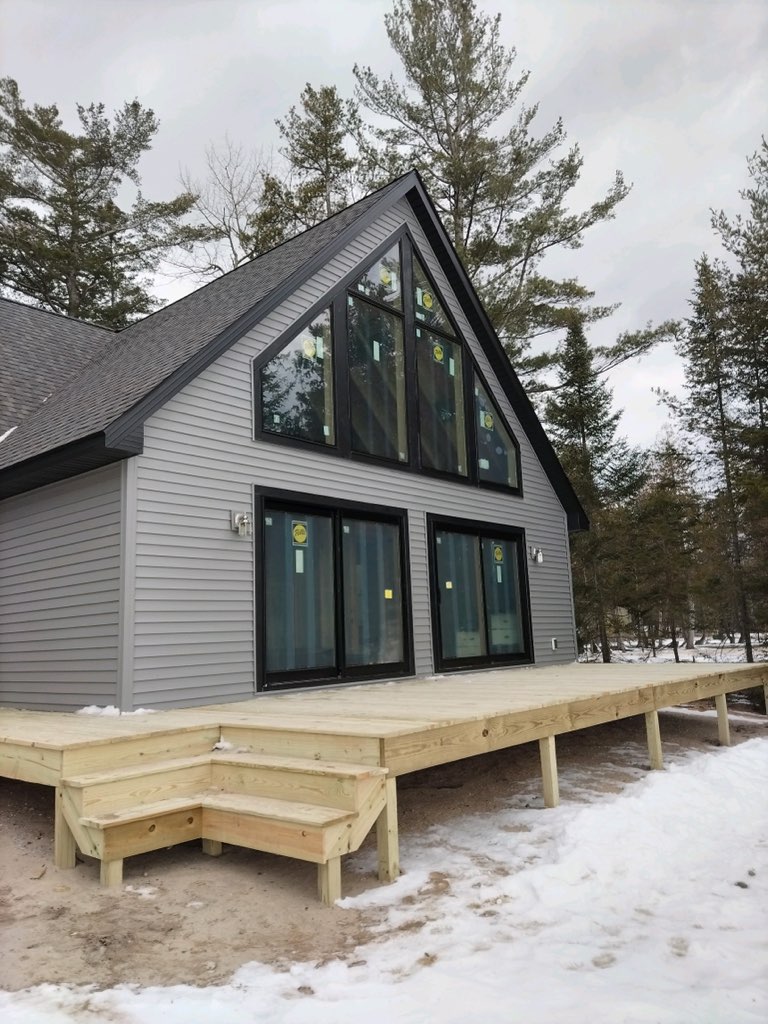 Click to watch BOB VILA VIDEOS ON BUILDING MODULAR:

How to Assemble a Modular Home- Episode 2705
How to Install Drywall - Modular Home- Episode 2703
---
=

Some of our Business Partners
---
Home Page ~ Floorplans ~ Photo Gallery ~ Virtual Tours ~ Contact Us ~ FAQ's Page ~ Model for Sale ~ Testimonials ~ Customer Tools ~ Product Brands
General Housing Corporation ~ Ritz-Craft Corporation

Michigan Builder of Modular Homes. Modular home dealer, Custom modular homes, Design Built Modular homes, Modular home sales, BOCA Modular homes, Michigan Residential Code (MRC) modular, Modular home floorplans, Ranch, Two story, Cape Cod, Chalet style, Vacation homes, multi-family, commercial buildings. We serve Cheboygan, Emmet, Antrim, Mackinaw, Otsego, Presque Isle, Charlevoix, Antrim, Montmorency, parts of Grand Traverse, Kalkaska, and Chippewa Counties.